So it's the start of the awards season and it was kicked off last night by the return of the Golden Globes.

As much as I despise Monday mornings (especially ones as cold and unbearable as this one) I jumped out of bed eager to get into work* and see what everyone was wearing this year.

(* I didn't, clearly)
I got into work and scoured all the fashion websites, looking through all the best and worst dressed articles and I have to say I'm not exactly complying with the fashion etiquette this year.

There are a few dresses that people think are amazing that I thought were horrific.

I like that there were quite a few people bucking the trend and going for weird and wonderful outfits, better than the bog standard embellished full length black/red dresses that have been overdone on the red carpet of late.
Sorry i'm being such a total girl about this, but I love the awards ceremonies just for the fashion, so now I am going to do my best dressed and my worst dressed lists – just indulge me
J
1st Place – Mila Kunis
Mila wins my best dressed of the night award in her full length black Dior number.

Golden girl Mila didn't really need much help to look beautiful as she is stunning anyway, and I know I just said I didn't approve of the boring full length black dress but within minutes of me looking at the news reports Mila made me eat my own words.

I love the layering of the skirt, I love the nude/black mesh detailing of the top and the one strap is perfect for her, accentuating her neck without leaving her looking broad shouldered.

The jewellery is a bit blingy but still relatively understated (I think it was a good move not wearing any bracelets) and best of all, this dress shows off her skin to perfection – look at it!

She has a perfect complexion, not a bruise/freckle/spot in sight.

It's not often I get skin envy but Mila has done it to me - Absolutely beautiful.
2nd Place – Angelina Jolie
Angelina is the epitome of old school Hollywood glamour in this dress.

Never one to be too 'revealing', she manages to dress perfectly for her age as well as look absolutely stunning.

This oyster and deep red Atelier Versace dress is beautiful anyway, but when matched with Angelina's incredible bone structure and matching scarlett lipstick and clutch, the whole outfit comes together perfectly.

Amazing that with her naturally pale skin tone the colour doesn't make her look washed out, instead it gives her skin an incredibly dewy glow -

even the questionable tattoos don't ruin this dress!
3rd Place – Jessica Biel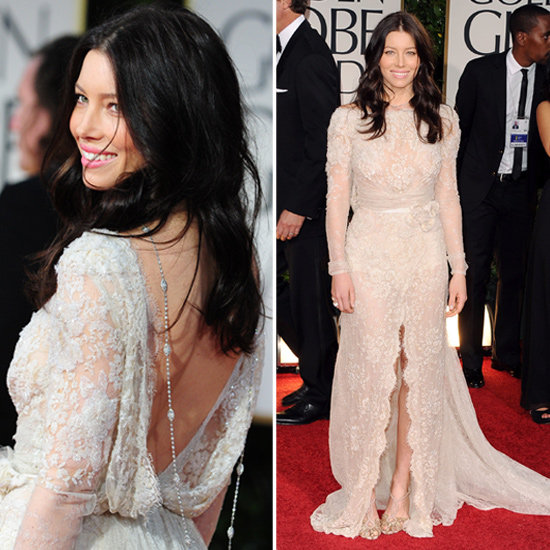 Another fantastic outfit for me was the beautiful Ellie Saab gown worn by Jessica Biel.

I have never really been a fan of Jessica's before (having never seen her look remarkable in an outfit) but the minute I saw her in this dress I did a complete u turn.

The dress is a bit 'bridal', but considering the rumours surrounding her and long time beau Justin Timberlake making it official and getting engaged this week, you can forgive her for that.

The lace and pearl detailing on the dress is very elegant and the dress obviously looks vintage because of this.

I love the scallop hem on the split in the skirt and the split shows just enough leg without it being too 'gash revealing'.

The colour of her hair against the dress is perfect, any darker and it would be too brash, any lighter and could easily look to wishy washy.

Although this dress is beautiful from any angle, the back is the best part.

With a deep cut exposing most of her back the chain draped around the edge is a beautiful touch and look so elegant – it's just a shame that you can see her knickers through the dress, but we'll pretend we haven't seen that bit...
1st Place – Sarah Michelle Gellar
Unfortunately, Sarah gets the gong for the worst dressed of the whole evening.

It's a shame, as when dressed right she is lovely, but there was so much wrong with this whole look.

First up, the tie dye dress – this was never going to be acceptable anywhere, let alone on the red carpet when everyone else is dressed so amazingly.

Next, the dress absolutely swamps her.

You can see from her shoulders that she has a small frame, yet the bottom of the dress looks like it could fit about 5 other people in it.

I am all for epically puffy dresses in the right situation, but teamed with the pattern this dress is just far too fussy.

Team this outfit with the Croydon facelift ponytail and the whole look is just wrong.

It's a shame as well, as I don't really mind Sarah, but there is just no denying this dress is awful.
2nd Place – Natalie Portman
This is another unfortunate one.

It's a shame, because I do like Natalie Portman and there have been some pictures of her on the red carpet that I have totally raved over, but this year was just a big fashion miss.

I don't like the mix of the red and pink on this Lanvin dress, the top of it looks too big for her and the bit that sticks out on the side just brings nothing to the dress.

It's not horrific but it doesn't do her any favours.

The pink also clashes horribly with the red carpet, her hair just looks tied back like she's popping to the shops, and from what I can see of those shoes, they don't look too great either.

This picture makes me sad
L
3rd Place – Kate Winslet
This is the one that hurts the most.

I have LOVED Kate Winslet ever since I saw her gob in Cal's face in Titanic.

She normally does awards ceremonies so well, as she should because she normally picks up one or two.

This outfit is just awful though.

It's one step away from being appropriate for a frumpy 50 year old womans work attire (imagine the white skirt was trousters) and that is not her normal look at all.

The sleeves on the top are totally 1996, the top look too small for her.

The dress looks like it's straining over her curves at the front, and it's just plain and boring.

Love the hair, but unfortunately even that can't save this outfit
L

There weren't TOO many horrific outfits on display last night, so the majority of the celebs did well. What outfits did you love/loathe? I'd love to hear your thoughts on the fashion last night, but for now i'll leave you with some other outfits I loved... enjoy!

Claire Danes looking super slim in J.Mendel

Helen Mirren looked stunning in dark blue Badgley Mischa gown
Props to Reese Witherspoon just for the beautiful hair an

d




super sunkissed tan... The Zac Posen dress isn't bad either!
Dianna Aragon looked absolutely beautiful
in this Giles dress



Evan Rachel in
peacock printed Gucci